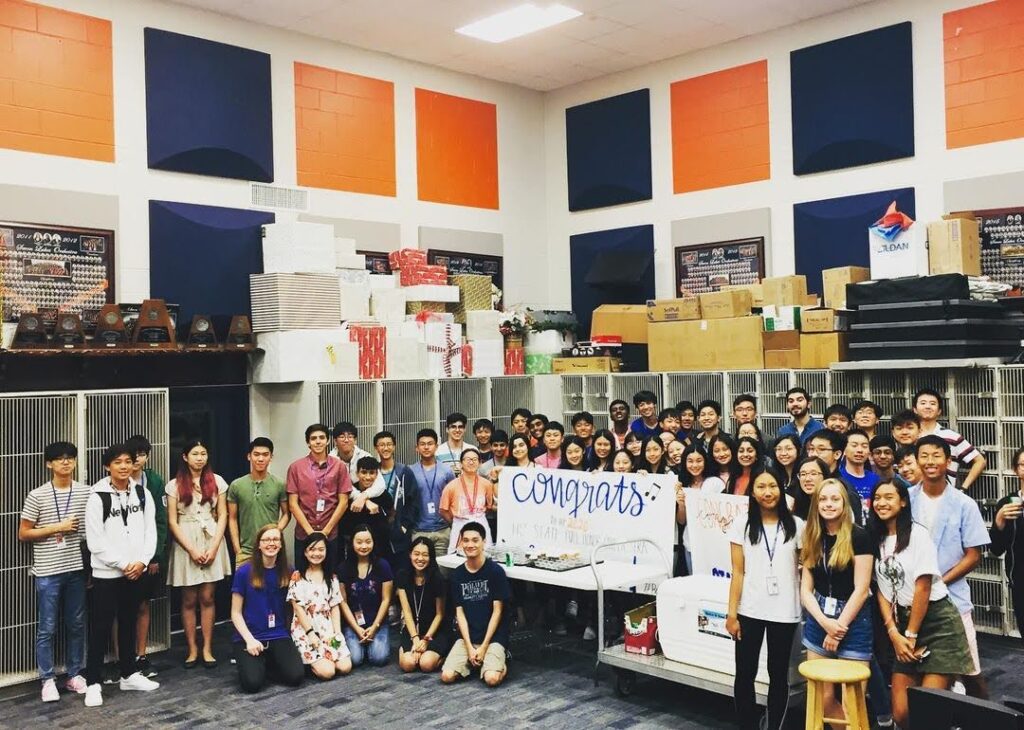 During the past eighteen years of our campus' existence, the Seven Lakes Orchestras have striven to be a leader in musical performance through innovative programming and performances. We have sought to inspire our audiences and each other through diligent study and performance of the greatest string and symphonic music composed. It is a privilege to continue this legacy of excellence.
Our classes are eager to learn and operate in a focused, constructive environment. Through collaborative projects such as our annual Mega Car Wash, Pumpkin Patch Fest, and "Give Bach," we have learned and adopted service as an important facet of a well-rounded education.
With a commitment to excellence, the ensembles have set out to reach the goal of being among the leading ensembles in Texas. Since its opening, the ensembles have earned top honors at local, regional, and state contests, as well as performed at major venues in the United States, including the Meyerson Symphony Hall in Dallas, Chicago's Symphony Center, and Indianapolis' Hilbert Hall. The Symphony and Sinfonia Orchestras regularly place in the top ten orchestras in TMEA's Honor Orchestra competition. In 2014, three of our ensembles were distinguished with this honor, including our non-varsity ensemble, Cambiata. In 2015, the Symphony Orchestra ranked #3 in the state of Texas, for the annual Texas Music Educators Association Honor Orchestra Competition. In July 2015, the Symphony Orchestra was also named the TMEA Honor Full Orchestra, winning our equivalency of the state championship. They were honored to present a concert at the annual TMEA Convention in February 2016, in front of 2000+ music educators, All-State students, and supporters. In 2018, three ensembles earned invitations to perform at Music for All's prestigious National Orchestra Festival. The Symphony Orchestra was also the 2017-18 winner of The American Prize in Orchestral Performance in the high school division. In 2019, the Symphony Orchestra won the TMEA state championship and was also recognized as a National Winner from the Foundation of Music Education. In 2020, the Symphony Orchestra had the opportunity to perform in the Lila Cockrell Theatre in San Antonio as state champions.
Individuals have earned top honors including membership at the Region, Area, and State level, and medaled at various competitions. Our Pit Orchestra for musicals has earned "Best Orchestra" nods from the Tommy Tune Awards for their performances in "You're a Good Man Charlie Brown," "Once Upon A Mattress," "Guys and Dolls," "The Music Man," and "Big Fish," winning the award in 2009. They were acknowledged by the GRAMMY Foundation in 2010-2011 as a GRAMMY Signature School, and received a "Runner-Up" placement from State Farm's "Original Score" Contest. The Foundation of Music Education has named the Symphony Orchestra and Sinfonia Orchestra a National Winner in the Mark of Excellence / National Honors Project for the past three years. 
The Orchestra Program currently consists of seven String Orchestras and one Symphony Orchestra, with over 230 students enrolled in the program.
Camerata: An entry-level string ensemble
Philharmonia: A non-varsity string ensemble
Arietta: A non-varsity string ensemble
Serenata: A non-varsity string ensemble
Lyrica: An intermediate, Non-varsity string ensemble
Cambiata: An advanced Non-varsity string ensemble
Sinfonia: An advanced varsity string ensemble
Symphony: A symphonic ensemble, including band and string students
Seven Lakes High School, led by directors Desiree Overree, Sean Carlton, and Sean Kime is located in Katy, Texas.