"Give Bach" is an idea that students can give back to their orchestra, school, and community through music and service. Our goal is to be the premiere school for orchestra in KISD and ultimately, Texas.
Houston Food Bank Service Project (2021)
After an isolated, virtual school year, the Seven Lakes Orchestras volunteered at the Houston Foodbank! Our students had fun serving their community by assembling containers, sorting food items, packaging food boxes, shelving containers, and much more! 
Houston Food Bank Service Project (2020)
The Seven Lakes Orchestras took a trip to the Houston Foodbank to help out our community! We enjoyed the time and are looking forward to serving our community again!
Houston Food Bank Service Project (2015)
Toys for Tots / SantaCops
It has been a SLORK tradition that each student contributes $5 to help students within our KISD zone for the Santa Cops program through KISD police. The Student Leadership team purchases / collects funds in November and finally purchases these gifts for the event. At the Winter Concert, in lieu of monetary donations, we ask that each family purchases a new, unwrapped toy for the Toys for Tots Foundation, sponsored by the US Marines.
Holland Middle School Band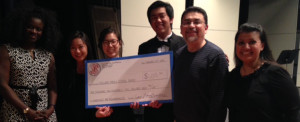 Raised over $1000 for Holland Middle School's band program which was struggling to provide a proper musical education to its students due to a shortage of funds and in turn a shortage of instruments.
Michael E. DeBakey Veterans Hospital
On January 16, 2015, the Sinfonia (top ensemble) went to Michael E. DeBakey VA Medical Center to celebrate a "Day of Service & Leadership", honoring Dr. Martin Luther King Jr. After an invocation by Chaplain Sophelia Kelly and the MEDVAMC Chaplain Service, Sinfonia performed the National Anthem, coincident with the Posting of the Colors. Other organizations, such as the TSU Debate Team, also presented acts venerating MLK Jr. Sinfonia closed their program with America The Beautiful and a Spiritual composed by Gould.