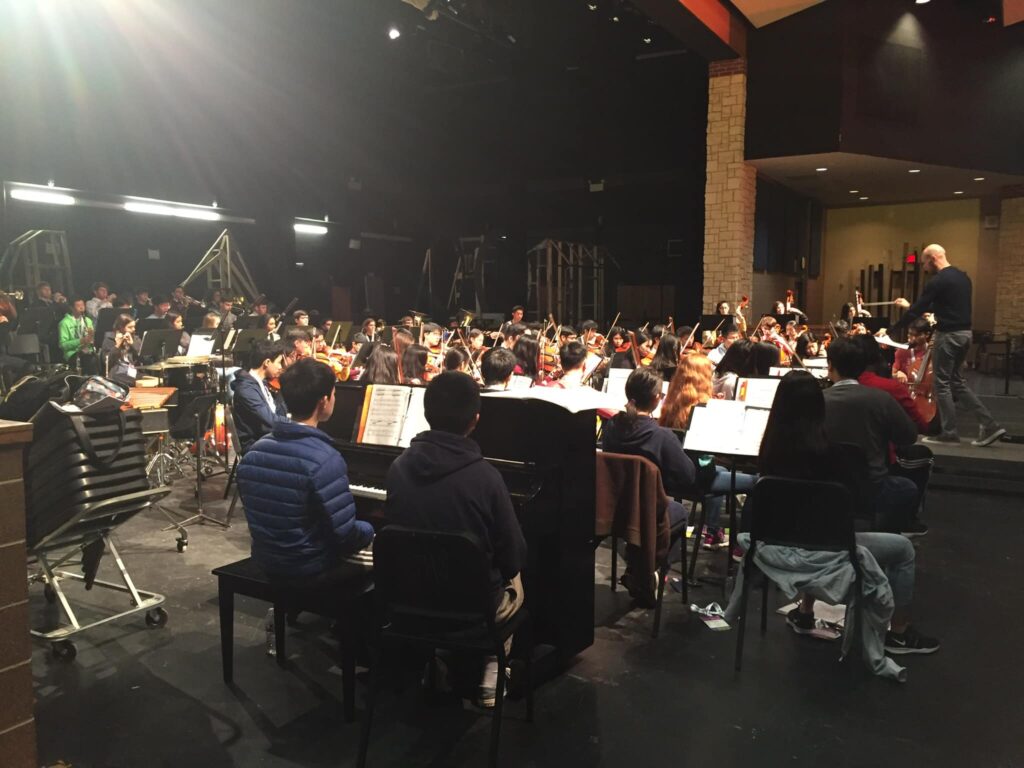 Dear Future Seven Lakes Orchestra Member,
It seems that this year has flown by very quickly, and it's very hard to believe that you're about to embark upon your high school career! This packet from the Seven Lakes Orchestras has been provided to help you and your parents take an in-depth look at what orchestra program at Seven Lakes is all about.
We have been very blessed at Seven Lakes High School. In our 17th year of existence, the orchestras have earned many accolades, and have presented many outstanding performances. Our ensembles have won numerous "Sweepstakes" trophies at various UIL and festival contests. Our orchestras consistently rank in the top 10 orchestras among all high school orchestra programs in Texas. In 2016 and 2020, the Symphony Orchestra was crowned State Champions; they performed in front of over 3000 music educators at TMEA Convention. Our Pit Orchestra have done an outstanding job for our musicals, "You're a Good Man, Charlie Brown!", "Once Upon a Mattress," "Guys and Dolls," "The Music Man," "Big Fish," and "Beauty and the Beast." For their hard work, they have been nominated for Best Orchestra at every "Tommy Tune" awards, the high school equivalent of the Oscars. The Pit Orchestra won the prestigious "Best Orchestra" Award for both "Once Upon a Mattress" and "Beauty and the Beast!"
Each year, we bring in guest clinicians from all over the world. Jeffrey Grogan (Oklahoma City University), Franz Krager (University of Houston), and Brian Worsdale (French Woods Festival of Fine Arts) rave about our ensembles. Our students have received masterclasses from world-class musicians from the Academy of St. Martin in the Fields and from many colleges and universities all over the United States. Our students have had the opportunity to perform and premiere living composer works by Lowell Liebermann, Kelsey Lange, Todd Frazier, Michael Markowski, and John Mackey. One of our biggest concerts was when we performed with European pop superstar, Alex Rybak.
Our talent has proven itself with dozens of Region Orchestra members, Area Orchestra Members, and several All-State Orchestra members over the years. Hundreds of medals are earned at our UIL Solo and Ensemble Contest. We've earned so many consecutive Sweepstakes trophies at both Full Orchestra and String Orchestra UILs! In addition to the field trips to world-renowned artists like the Tokyo String Quartet, the Eroica Trio, Joshua Bell, Itzhak Perlman, 2Cellos, and the Houston Symphony! Students enjoy social events like Movie Night, the O-Mazing Race, White Elephant parties, and more. Our spring trips have brought us to San Antonio, Bandera, Dallas, Chicago, New Orleans, and Orlando!
Our compassion has come through with flying colors by volunteering throughout the year at the Houston Food Bank. In the past, students have also contributed to "Toys for Tots" and Katy ISD's Santa Cops Program. Outside music, our students have worked hard toward being the best students at Seven Lakes with far-ranging achievements in academia and sports. Nevertheless, students still enjoy performing great repertoire, making new friends, and being part of a hard-working, fun-loving, and musical family!
Please check out the following pages of Frequently Asked Questions. We invite you to be a member of one of the most exciting groups at Seven Lakes. As a flagship of Katy ISD, we want YOU to be a part of making history!
Musically Yours,
Desiree Overree, Director of Orchestras
Sean Carlton, Assistant Director of Orchestras