News from SLHSO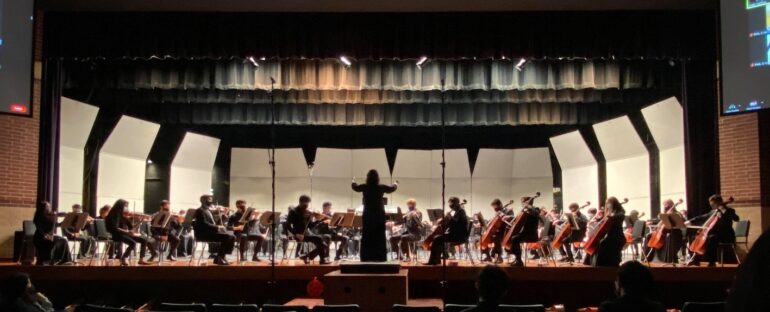 Our last, and for many students, first in-person concert, was a huge success! The PAC was packed with a socially distanced audience that listened to the performance that musically ended our Orchestra year! We also saw the world premiere of some student compositions!
Our Combined Orchestra (consisting of our Camerata, Philharmonia 2, and Philharmonia 7 Orchestras) performed Arabian Dreams by Soon Hee Newbold, Dusk by fellow student Nikhil Murali, and also took part in performing the world premiere of Battlefield 1942 (Joel Eriksson) arranged by our hardworking students in the Philharmonia 2 Orchestra!
Our Lyrica Orchestra performed Ride of the Rangers by Kirt Mosier, and also Stringtone Jam, an iconic but jazzy mix of ringtones composed by Lyrica violist Adrian Sisso!
The Symphony Strings performed two student compositions: Perspective, composed by Thomas Wang, and Nero, composed by Daniel Wei.
Finally, the Symphony Orchestra performed Scheherazade (I. The Sea and Sinbad's Ship) by Nikolai Rimsky-Korsakov, The Banks of Green Willow by George Butterworth, and Symphony No. 2 (IV. Finale) by Jean Sibelius.