Upcoming Event
Holiday Extravaganza 2023 – December 7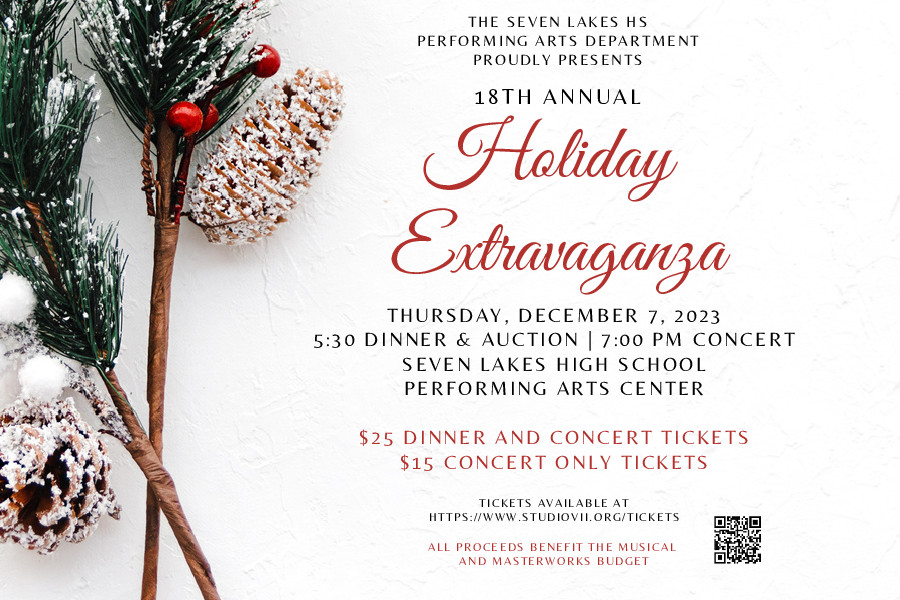 The Seven Lakes HS Fine Arts Department is delighted to present our annual "Holiday Extravaganza" on Thursday, December 7th on the campus of Seven Lakes High School. This holiday event features performances from all of our Fine Arts, accompanied by dinner and a silent auction: it's a night not to be missed!
Our Freshman Center doors open at 5:30pm and dinner, catered locally by UR Way Catering by Eric, will be served in the Freshman Cafeteria. You'll be welcomed by our orchestra ensembles performing chamber music, delightful dances from our Sapphires and JV Spartanaires, spirited serenades from the Sensations, and a humorous performance from Studio VII Theatre Co. The concert, which starts at 7:00p will showcase performances from our Chorale and Symphony Orchestra, and the highlight of the evening is our Not-So-Silent Auction where the auction winner could bid to win an opportunity to conduct the Symphony Orchestra.
Proceeds from the Dinner Tickets, Silent Auction, and Concert directly benefit our Spring Musical and Masterworks Series. Ring in the holiday season by attending this event and support the award-winning Fine Arts Department! Ticketing goes live on November 13th, so visit Studio VII Theatre Co. to purchase your tickets for a night of incredible entertainment!