News from SLHSO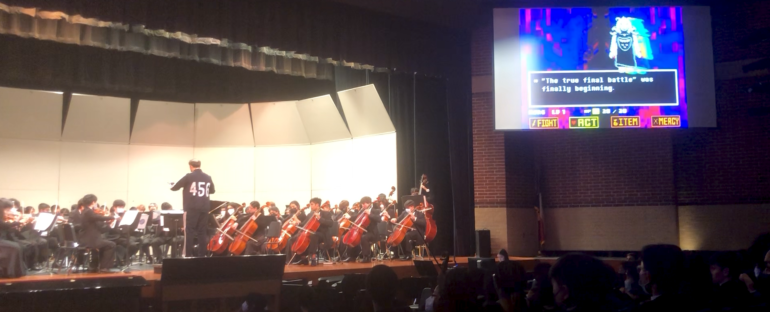 Our students and audience had a blast at the ambitious, video game themed Spring Concert, full of funny skits such as the concert etiquette video, a mixture of game machinima given life by Derek Chen and his team of talented voice actors and player controllers (see below), interactive performances, like a sing-along of the beloved Minecraft parody song "Fallen Kingdom", and an amazing end of year Star Wars parody movie shown at our informal banquet!
Our students performed songs from the soundtracks of some of this generation's favorite games, recordings of which can be seen on our Youtube channel!
The Camerata, Phil 2 and Phil 7 combined orchestras performed the following pieces with interactive elements:
The Halo Theme by Martin O'Donnell and Michael Salvatori
Korobeiniki (The Tetris Theme), a traditional Russian Folk Song arranged by Timothy Rohwer while faculty and student Jasmine Wang competed against each other on screen
Finally, a beloved Minecraft parody of Coldplay's "Viva la Vida", Fallen Kingdom, by Jordan Maron and arranged by Adrian Sisso complete with an audience sing-along led by choir student Tanner Scott!
Our Piano and Harp Studio performed the following nostalgic pieces:
Sweden, a peaceful track by C418 from the videogame Minecraft accompanied by a video officer Derek Chen created as a love letter to the beloved game
The Super Mario Bros. Themes (Konda/Guxholli) accompanied by faculty member Mr. Jacobi playing the game on screen! More amazing than Mr. Jacobi's epic gameplay was that our pianists Parham Vakili and Daniela Caballero were so synced to the game that every single sound effect could be heard from the piano!
Morpheus, a somber piece composed by Cambiata cellist Nikhil Murali and performed by pianists Victor Liu and Melody Yang!
Up next was our Lyrica orchestra with the following video game pieces:
The Legend of Zelda Ocarina of Time Medley (Kondo/Arr. Frias)
"Greenpath" from the atmospheric adventure game Hollow Knight by Christopher Larkin and arranged by Lyrica violist Darsh Shah
Finally, "Hopes and Dreams" and "SAVE the world", two iconic finale pieces composed by Toby Fox for the hit RPG Undertale arranged by Andrés Alejandro Rojas!
Our Symphony Strings orchestra decided to focus more on the "Life" aspect of our concert theme with the following pieces:
"Never Ending Performance" from the adventure game Genshin Impact by Yu-Peng Chen arranged by student Owen Christian T Capule
"Merry-Go-Round of Life", an iconic waltz from Studio Ghibli's Howl's Moving Castle by Joe Hisaishi arranged by Jen Mathers
"One Hand, One Heart" from West Side Story (Bernstein/Arr. Naughtin)
Finally, "First Time in a Lifetime", a world premiere by composer Joshua Idio!
The recordings of the pieces can be found on our Youtube channel, and linked below is the hilarious concert etiquette video!